DFW Buying Tips: Slow Market Doesn't Equal Easy Market
Posted by Helen Ford, Broker / Owner on Tuesday, June 6, 2023 at 7:00 AM
By Helen Ford, Broker / Owner / June 6, 2023
Comment
Facing soaring costs of renting a house in McKinney, Thelma and Joel Ocampo finally purchased their first home together in March. "We just decided to go for it," Joel said.
There are fewer transactions taking place in Dallas-Fort Worth than a year ago after a surge in mortgage rates spurred by the Federal Reserve, but there is still a significant shortage of homes available for sale that is driving a strong seller's market. While the market is not as competitive, the region has just two months of available inventory for sale, tilting the market against buyers.
Dallas-Fort Worth housing market still skewed toward sellers
As of April 2023, Dallas-Fort Worth had 2.1 months of housing inventory available for sale, fueling a seller's market. A balanced market between buyers and sellers would have six months of supply, a level not seen since 2011.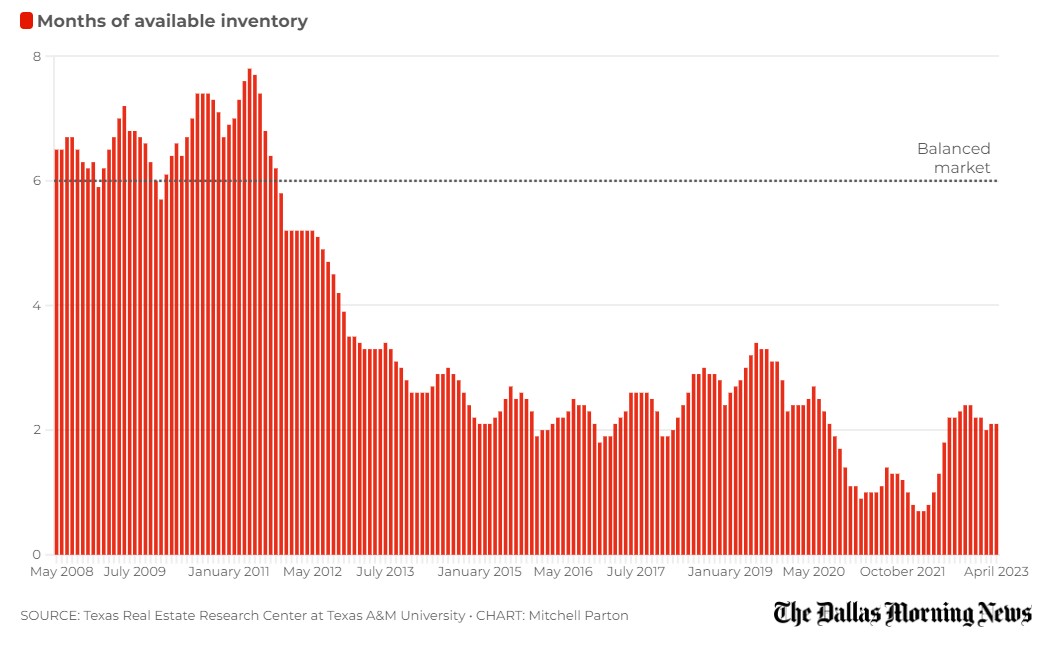 "There's a couple of times where I just wanted to give up," Thelma said, but she would tell other buyers not to get discouraged. "There will be a house out there."
The Dallas Morning News spoke with the Ocampos as well as real estate agents throughout North Texas about what they would tell potential homebuyers to help them get ahead in the still-busy market.
Get ready to compete
Agents say many homes are still seeing multiple offers from interested buyers — just not the dozens of bids on a single home as was often seen last year — and that buyers are not having to pay as much over the asking price in competitive situations. Homes in popular neighborhoods that don't require much fixing up and are well-priced and well-presented are the most likely to see more than one bidder, agents said.
Cash also remains king. Lee Harbaugh, a real estate agent, said his clients recently put in an offer on a home around $250,000 to $300,000 in Fort Worth but lost to an all-cash buyer. "One of the things I'll tell [buyers] is, if you're really in love with his house, and you really like his house, you're probably smart to go ahead and offer a full list price on it, assuming that we believe it's priced right," Harbaugh said.
Don't wait for lower prices, rates
Economists don't expect a large decline in Dallas-Fort Worth home prices, which have dropped only slightly over the past year after significant increases since 2020. As for financing, the Mortgage Bankers Association forecasts mortgage rates will drop slightly this year but by no more than one percentage point.
Harbaugh said when buyers make a decision on buying a house, they need to make it based on the rates and prices available at that time rather than relying on assumptions for where they think the market could be headed. "None of us really knows what tomorrow is going to hold," he said.
Expand your search area
Buyers may have more success in smaller towns around on the outskirts of North Texas' big cities that have seen a surge in population growth.
The Ocampos began searching for a home in McKinney, Allen and Plano. They kept getting outbid by other families or investors and found some homes to be too pricey for their budget or needing too much work. After losing out in the other cities, they drove out to Princeton. They found that if they looked further from McKinney, they would be able to get more space and a bigger yard, and they wouldn't have to resort to a fixer-upper or a smaller home.
"In the scheme of things, downtown McKinney would have been perfect," Thelma said. "But who knows how long we would have had to wait to actually find the perfect location and the perfect price."
Get connected to lenders and agents early
Agents suggest buyers get in touch with local lenders and real estate agents early in the process. It could give buyers a competitive edge. Thelma said the fact they were preapproved with a lender helped them get their offer chosen on the Princeton home.
Buyers also need to talk to lenders to know exactly how much they can afford to spend on a home, Lunn said. "Do you know how much house you can really afford versus how much money you want to spend? Because there's a lot of these $30,000 millionaires thinking, 'I make a good living, I make $85,000 a year, and I can buy a $400,000 house,' and the answer is no," Lunn said. "It all depends on a bunch of different criteria."
Sheets said buyers, especially first-time buyers, need to understand their credit situation ahead of buying. "With certain credit scores, you will get a better or lower interest rate," Sheets said. "If you have 500 credit cards, maybe you talk to a lender and get on track to clean that up a little bit and have homebuying as a goal."