DFW Expected To Be #2 Of Nation's Hottest Real Estate Markets
Posted by Helen Ford, Broker / Owner on Tuesday, November 1, 2022 at 10:00 AM
By Helen Ford, Broker / Owner / November 1, 2022
Comment
Dallas-Fort Worth is expected to be one of the nation's hottest real estate markets next year for investment and development.
D-FW area trails only Nashville in a scorecard of metro areas that property executives expect to prosper. North Texas' second-place showing in the annual Emerging Trends in Real Estate markets to watch report is a big improvement from last year's seventh-place ranking.
Nashville was the top spot for the second year in a row.
More than 2,000 real estate industry professionals from across the country were surveyed for the benchmark study, which is sponsored each year by the Urban Land Institute and PricewaterhouseCoopers. About 5,300 ULI members have been meeting this week in Dallas.
While higher interest rates and the threat of recession are clouds over the real estate business, Sun Belt boomtowns outshine the rest of the country in the new forecast.
"All of the Texas markets are still doing fine," said Byron Carlock, who heads PwC's U.S. real estate practice.
Along with D-FW, Austin rates as the fourth hottest market in the country. San Antonio comes in 12th and Houston 14th in the top markets forecast for 2023.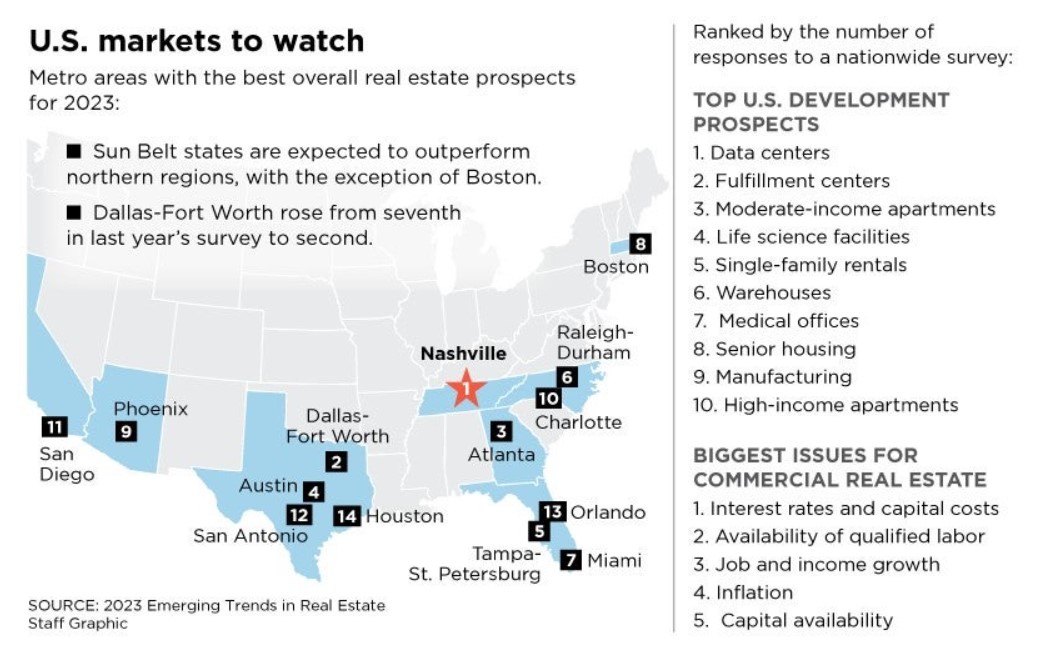 While real estate conditions in markets such as Chicago and New York City are struggling, the Sun Belt is outperforming the country, Carlock said.
"The whole 'smile states' from Northern Virginia out to parts of Los Angeles are still showing strength," he said.
D-FW is highlighted in the report for the area's ability to draw funding for investment and building and to attract new business along with the strength of the local homebuilding market.
Sun Belt boomtowns — including Dallas — are expected to outperform the rest of the country if the U.S. economy tips into recession next year.
Only 46% of real estate executives who were asked for their outlook said they expect next year to be better for their business than 2022.
"The outlook for next year is actually a little lower than it was during the pandemic," said Andy Warren, PwC's director of real estate research. "I guess that's because we know more about what economic disruptions can do to the industry."
Property company leaders think a recession is just around the corner.
"We are not in a recession, but we should expect one soon," said Mary Ludgin of investor Heitman Financial. "Corporate profits are under pressure, so I expect change ahead. "
Changes in office demand and use created by the pandemic continue to rattle commercial property investors and builders.
"No one we interviewed expects a mass departure from office buildings — even under the most pessimistic scenarios," the forecast said. "Pro-office proponents note that the total number of office-using jobs in the United States was 5% higher than pre-pandemic levels as of midyear 2022, and the growth is even higher in Sun Belt metro areas such as Austin, Atlanta, Dallas, Tampa and Denver."
Last week, commercial real estate firm JLL said it expects 65% of office workers to be back at their desks for a majority of the week by early next year. Austin, Houston and Dallas are among the top cities for office worker occupancy, JLL found.
"Employees like the flexibility," Warren said. "They also like to be in the office.
"They like to collaborate with their co-workers," he said. "Three days a week seems to be the right mix."
Few real estate execs polled for the annual forecast expect a crash or liquidity crunch in property markets.
"The demand drivers for certain asset types like multifamily and industrial are still very strong and undersupplied," Carlock said. "People are proceeding with business plans but more cautiously — more equity and less debt.
"We have never gone into a downturn with this much dry powder."
Data and fulfillment centers, moderate-income apartments and single-family rentals, life science facilities and senior housing are identified in the Emerging Trends report as the top development prospects for 2023.
But construction is already headed down.
That's a good thing, said Michael Levy, CEO of Dallas' Crow Holdings, one of North Texas' major property investors and developers.
"We were all concerned about the amount of new supply coming," Levy said. "That supply is going to really get a haircut in 2023."
Commercial property values haven't yet shown much decline because of a lag in appraisals and a decline in sales.
"The markets have not completely dried up," Warren said. "You still see deals getting done. People are looking for opportunities."