DFW Home Prices Hold Strong Over Other Texas Metros
Posted by Helen Ford, Broker / Owner on Tuesday, November 8, 2022 at 10:00 AM
By Helen Ford, Broker / Owner / November 8, 2022
Comment
The national housing downturn spurred by higher mortgage rates and affordability challenges is reverberating across the Lone Star State.
In Dallas-Fort Worth, though, prices are soaring more than in other Texas metros, and the region's home supply is the tightest in the state.
Texas real estate agents sold 97,711 homes in the third quarter, a 10% decline from the previous quarter and a 15% drop from a year before, according to a new report from Texas Realtors.
The median price of a home statewide fell 3.6% from the second quarter to $345,000 but was still 11.3% higher than in third-quarter 2021.
Dallas-Fort Worth home sales were down 14.3% last quarter, a smaller year-over-year change than in Austin and Houston. At $406,000, the median home price in D-FW was up 14.4%, the most of the major Texas metro areas. The region has also seen some of the biggest price growth in the country.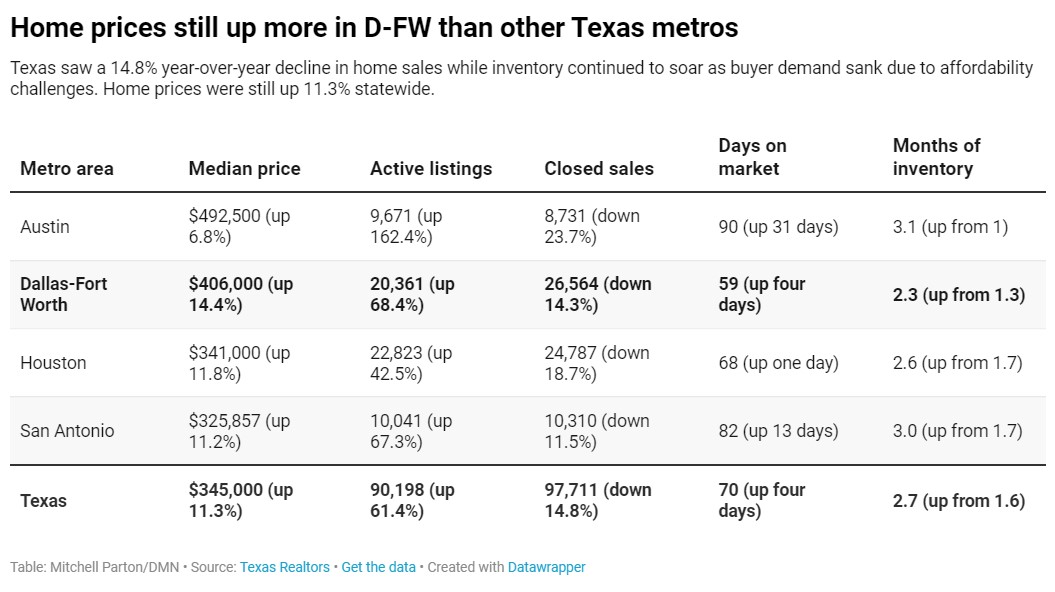 Dallas-Fort Worth had 2.3 months of available housing supply as of the third quarter, the lowest level of any Texas metro. While up an entire month from a year before, a balanced market between buyers and sellers would have about six months of supply.
The state has 2.7 months of supply available, up from 1.6 a year before.
Russell Berry, chairman of Texas Realtors, said the number of homes being sold now is closer to pre-pandemic figures than those seen in the unprecedented market seen over the last couple of years.
"While higher interest rates present a challenge for buyers, the good news is that buyers have more homes to choose from and are less likely to find themselves in a bidding war," Berry said in a statement. "Sellers may have to wait longer to get an offer, but home prices in many markets are still close to the all-time highs recorded earlier this year."